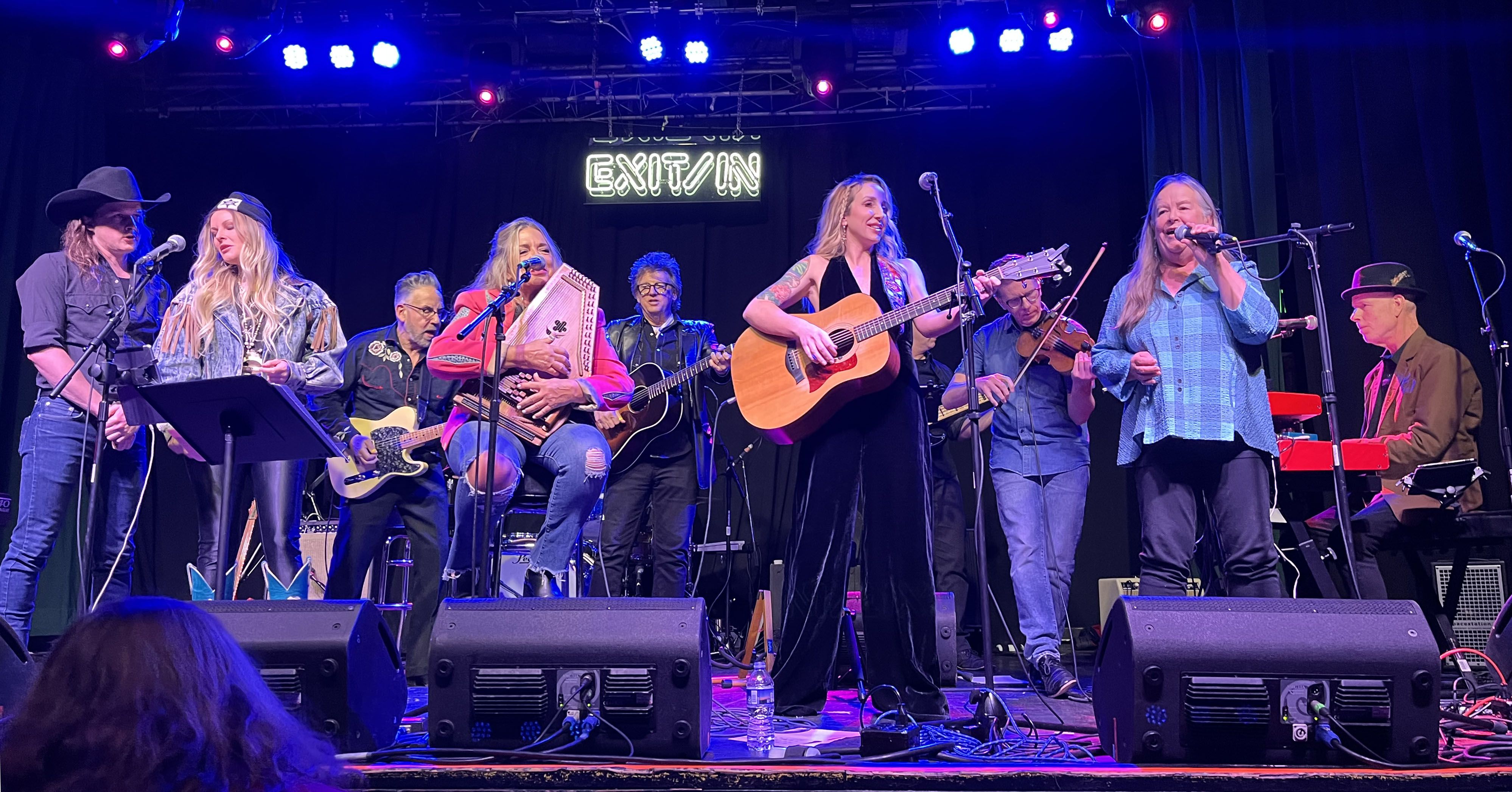 Photo caption, left to right: Wade Sapp, Elizabeth Cook, Chris Casello, Carlene Carter, Chuck Mead, Ashley Monroe, Eamon McLoughlin, Tracy Nelson, Al Hill. Not seen: Patrick Bubert on drums and David Spicher on bass. 
Back in 1971, a new club called Exit/In opened in Nashville, with a weekly writer's night for aspiring songwriters.  Not long after, a teenage Carlene Smith did a three-song audition, and was selected by the man who ran the songwriter night, Hugh Bennett.  As the daughter of country stars Carl Smith and June Carter (Cash), Carlene had sung with her family (the first family of country music, The Carter Family), and on the Johnny Cash show, but this marked her debut as a professional solo musician. 
Last Wednesday night, the artist now known as Carlene Carter returned to the now landmark venue for the last time, as she wrote on Instagram the day before: "It's so sad that Exit/In is closing, but I'm so grateful to be playing one of the final shows tomorrow night! Join me, my band The Lucky Ones, and lots of special guests to celebrate this iconic venue! Let's send them off in style and rock like hell!" 
And rock she did, after an introduction from the same Mr. Hugh Bennett who had done the honors almost 50 years prior, Carlene and her excellent band (Chris Casello: guitar, Al Hill: keyboards, David Spicher: bass, and Patrick Bubert: drums) kicked off with the rousing "I Love You 'Cause I Want To" and "Sweet Meant to Be" (both from her 1993 Little Love Letters CD), then one of the first songs she performed at Exit/In, "Easy From Now On" (which younger audience members knew from Miranda Lambert's 2007 cover).  Written with Susanna Clark (wife of Guy), Carlene told how it changed her life when it was recorded by Emmylou Harris (who played Exit/In the following night. In her report on the venue's final month of shows, WPLN's Jewly Hight referred to them as "two architects of country-rock, Carlene Carter and Emmylou Harris.") 
Carlene followed with her biggest international hit, "Every Little Thing," written with NRBQ's Al Anderson, then paid tribute to her father Carl Smith (wearing one of his stage jackets) on the song she wrote inspired by his style, "Break My Little Heart in Two" (from 2008's Stronger).  She talked about the night he came to see her at Exit/In with The Rumour (the English rock band who played on her debut album in 1978).  She was afraid they were too loud for him, but he just said, "I like your act." 
Stories were included with most songs, as Carlene told of working with John Mellencamp (her touring partner from 2015-17) on an album of gospel songs, for which she wrote the soul-searching "Damascus Road."  Mellencamp didn't follow up on that project, which instead became the Sad Clowns & Hillbillies album, including their duet "Indigo Sunset," which Carlene later performed with keyboardist Hill.  Her autobiographical "The Bitter End" (also from Stronger, co-written with Mark Winchester) completed this section of the show before the succession of guests, starting with another country-rock architect, Tracy Nelson. 
Carlene said that she had thought of herself as mostly a writer, but seeing Tracy Nelson at the Exit/In inspired her to be a performer too.  Nelson started with a song from her upcoming new album, followed by her classic "Down So Low," recorded through the years by Linda Ronstadt, Maria Muldaur, Cyndi Lauper, and the legendary Etta James, who when introduced to Nelson at Exit/In, told her, "I hate that f***ing song. It's too hard to sing."  "A lovely memory," Nelson sardonically recalled, before singing it with the same power and passion that made such an impression on the young Carlene (and had the show's other guests watching from the wings).  It earned the first standing ovation of the night, and was followed by the two old (or shall we say long-time) friends on Hank Williams' "Honky Tonkin'." 
Chuck Mead bemoaned following Tracy Nelson, but not to worry, he won the crowd over joining Carlene on "Baby Ride Easy" (which Carlene's fans know from the Dave Edmunds duet on her 1980 Musical Shapes album), and Johnny Cash's "Get Rhythm."  Carlene introduced "Too Bad About Sandy" (also from Musical Shapes) with the story behind the song, about a sister who married an ex-husband ("He was good looking, but kind of an idiot.") 
Wade Sapp had posted on his Facebook page, "I get to sing my favorite Carlene Carter song with her tomorrow night."  That turned out to be "It Takes One To Know Me," as he brought his deep rich voice to the song Carlene wrote as a Christmas present for stepfather Johnny Cash when she was a young mother living in a trailer with no money.  Cash told her it would be his next single, though it was not released until after his death almost 30 years later.  Carlene recalled that she "might have followed Paul McCartney" the first time she sang it at one of the star-studded guitar pulls at the Cash house.  She later recorded her own version for her Stronger CD. 
Carlene's friend Elizabeth Cook soloed on "Daddy, I Got Love For You" from her amazing 2020 Aftermath album, and with Wade performed the theme song, "Bad On Paper (but good between the sheets)," to an upcoming film on her life.  She and Carlene had bonded during the recording of Carlene's 2014 Carter Girl CD, as Elizabeth came to sing on two tracks and ended up on six, making her an "honorary Carter Girl."  She honored Carlene back, saying she not only carries on her family's legacy, but adds her own to it. 
The two were then joined by Ashley Monroe, who Carlene said was a "Smithy cousin" (on her dad's side), as the trio performed the Carter Family classics "Foggy Mountain Top" and "Gold Watch and Chain," with fiddle virtuoso Eamon McLoughlin, and Carlene playing autoharp, wearing finger and thumb picks from her mother June, aunts Helen and Anita, and grandma Maybelle Carter.  Ashley talked about growing up listening to Carlene, so it was a dream come true for her to sing "Me and the Wildwood Rose," Carlene's tribute to all of those family members.  Carlene praised Ashley's angelic voice and said she was the only one she would let sing that song, which segued into "Will the Circle Be Unbroken," as all the night's guests returned to join in, taking turns on verses as the enthusiastic audience sang along to the familiar chorus. 
When the stage cleared, the crowd kept applauding, eventually chanting "CARLENE! CARLENE! CARLENE!" until she and the band returned for another of her signature hits, "I Fell In Love," with its audience participation response, "Whatcha wanna do that for?" 
Recalling past shows at Exit/In, from Steve Martin (who a 1978 People magazine article said Carlene dated) to Waylon Jennings with opener Jim Varney, Carlene said it was a place where you saw so many things that you would always remember.  Her Wednesday night farewell to the venue that provided her start was full of those.