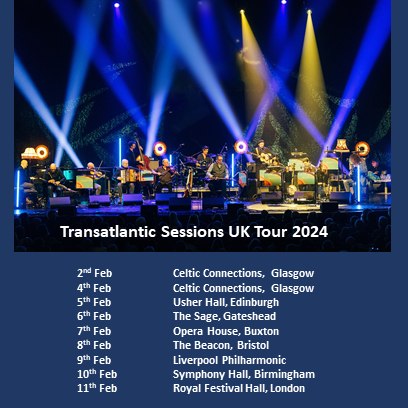 Transatlantic Sessions returns for 2024, exploring and celebrating the rich musical traditions that connect Scotland, Ireland and the US. An annual focal point of Celtic Connections, the exclusive line-up combines guest singers and the celebrated house band, inviting them to interweave original material with age-old tunes and songs as they explore shared roots and find new common ground.
We are delighted to welcome Grammy nominated singer-songwriter Carlene Carter as a very special guest for the 2024 tour. Daughter of country music legends June Carter and Carl Smith, stepdaughter of Johnny Cash, and granddaughter of "Mother" Maybelle Carter of the original Carter Family, Carlene has more than lived up to the tag of "country music royalty" through her incredible career of album hits and classic songs written with artists like Emmylou Harris and Nick Lowe.
The show's seasoned house band, guided as ever by Aly Bain and Jerry Douglas, features renowned Celtic and Americana roots musicians Phil Cunningham, John Doyle, Michael McGoldrick, Tatiana Hargreaves & Allison de Groot, John McCusker, Donald Shaw, James Mackintosh and Daniel Kimbro, alongside further guest singers to be announced.